Free Investing Materials:
Trading Guides, Tutorials:
MarketClub Technical Analysis Software Review - Find Trade Triangles
| | |
| --- | --- |
| The MarketClub Trading System was developed by Adam Hewison and his partner Dave Maher. The MarketClub Service provides leading edge stock charting software and scanning tool that allows the trader to easily find trending stocks and to determine entry and exit points for each position. Adam Hewison is the owner of INO.com, one of the largest financial sites on the web today. Over the last thirteen years, ino.com has been serving traders worldwide with a continuous flow of information on stocks, futures, foreign exchange and precious metals. Before Hewison started INO.com, he got his start trading in the pits of Chicago as a member of the International Monetary Market, a division of the Chicago Mercantile Exchange. It was there in the pits that he first found, through trial and error, how the markets really work. It was in the pits that he learned the trading secrets used by Exchange members who routinely made millions of dollars every year. | |
He considers his pit time in Chicago and the trading secrets he learned from these multi-millionaire traders to be the foundation of his success.
Because of his success on the trading floor, he had a surprise business offer that required him to move to Switzerland. He was invited to help manage the private portfolio of a very wealthy family who lived in Geneva, Switzerland. This is not something that comes along every day, so he decided to take advantage of this generous offer.
The fact is he was ready for a change. The trading floor can be brutal. Trading on the floor of a major exchange is rough and tumble, and it's not for the faint of heart. Not only do you have to be sharp mentally, you must be at the top of your game physically as well. You must have plenty of stamina to stay on your feet all day, and you must be able to handle the unrelenting stress that pummels your mind and body.
So there he was, a few months later, away from the frenzy and chaos and stress of the trading floor. He would sit in a comfortable chair during trading hours in a beautifully appointed office in Geneva, Switzerland, just watching my quote screens and trading the dollar.<
It was then and there that he made two life-changing discoveries. Now he's going to share them with you.
Discovery #1
It's easier to make more money trading from an office than trading in the pits.
Most of the big money, the really big money, is made OFF the trading floor, not on it!
Off the trading floor, tucked away in his cozy Swiss office, away from all the rumors and market squawk, he was able to separate the forest from the trees. He was able to look at the bigger picture and take what he had learned from those multi-million dollar floor traders to a whole new level.
But his next discovery was the one that really got his undivided attention, because of its amazing application to trading and the markets.
Discovery #2
The smart traders leave "Trade Triangles"and if you spot them early, you will never ever miss any major move in any market.
"Trade Triangles" are the tangible manifestations of how human nature reacts, and how the market works in response, when huge amounts of money change ownership in a short period of time.
His discovery of the "Trade Triangles" was like finding a key DNA strand for the life force of every market. And this universal market truth stood the test of time - he could spot these "Trade Triangles" as they continued to repeat themselves over and over again across a span of almost three generations of traders.
It didn't matter what market he looked at - stocks, futures, mutual funds, precious metals, or his specialty, foreign exchange. he could always find, in seconds, the "Trade Triangles" of the smart traders.
Here's how YOU can profit from his discovery and follow the "Trade Triangles" to make big money in the markets
What he discovered sitting in his office in Switzerland was much more valuable than any trading system. He knows, because he has seen hundreds of them in his 25-year career.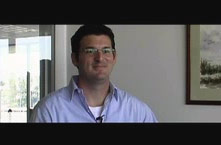 "I love using MarketClub."
Bob F.
Once you learn how it works, you too will immediately see the "Trade Triangles" of the smart traders. In fact, it will be practically impossible for you not to recognize them in the future -- no matter what markets you follow and trade!
Now, thanks to his business partner Dave who is a total computer genius, and computer technology that has finally become sophisticated enough, they are able to let other traders in on the secret of the "Trade Triangles."
The new service is called MarketClub, and it will change the way you trade forever. Review marketclub using a free 30-day money back guarantee, and see for yourself how this trading service can help you be profitable.
How do you know if MarketClub trading analysis software is suitable for you? We don't want to waste your time, so take a moment and see if you fit any of these three trading profiles. If you do, then MarketClub review, featuring the "Trade Triangles" approach, is a perfect fit for you, and odds are that you will do well.
MarketClub Review, featuring ino.com's exclusive "Trade Triangles," is suitable for the following types of traders and investors:
| | |
| --- | --- |
| | Short-term or swing trader: Usually in the market for a few days or possibly a few weeks (depending on the strength or weakness of the market). Can trade off the exchange floor and is much less time-consuming. Trades using daily charts. |
| | |
| | |
| --- | --- |
| | Intermediate-term trader: In the market for weeks and in some cases months at a time. Looking for bigger market moves. Not time consuming. Trades using weekly charts. |
| | |
| | |
| --- | --- |
| | Long-term investor (sometimes called position trading): In the market for months and in some cases years at a time. Looking for long-term major moves. Least amount of time needed to follow. Trades using monthly data and charts. |
In order to be a successful trader, you need to do two things:
"A great package when you combine the data feed and "Trade School" seminars and also the "Smart Scan" technology."

Bruce H.

You need to believe in yourself and imagine the possibilities of what a successful trading career can and will bestow upon you and your family.
You need to equip yourself with the best possible trading tools and information available.

He can't help you with the first one; only you can do that. But he can help you with the second one.

While he believes that "Trade Triangles" is the best and most reliable approach to trading today, and while the "Trade Triangles" technology is what sets MarketClub review apart from all the rest, there's more to trading than "Trade Triangles." In fact, if you're serious about becoming a better trader, take a minute and read what 95% of all traders don't know.
Understanding these six steps alone -- which take place in EVERY MARKET -- will help you to become a better trader.
SIX STEPS and the IRREFUTABLE LAWS of the MARKET
Every Investor and Trader MUST KNOW to Succeed
Step 1: A move begins with the sponsors (smart traders) who have insider knowledge as it relates to a particular stock or market. This information will move a market up or down depending on the insiders' information. These buyers are smart, very smart, and recognize trading/investment opportunities very early in the markup cycle.
Step 2: Days, weeks, or sometimes months after a move has started, there is a brief mention in the electronic media (radio, cable, TV) or on one of the internet chat boards that a market has moved. The public hears for the first time and begins to get interested, but does not buy.
Step 3: A blurb of information appears in print media. The move also begins getting more exposure on blogs and internet message boards. The public starts paying a little more attention, and will buy a little bit.
Step 4: Wall Street and LaSalle Street brokers go into full hype mode and hawk the market to their customers. The public begins buying in greater volume.
Step 5: A full-blown front-page article appears about the particular stock or market in one of the major financial newspapers, magazines, or financial websites. This is often six months after the fact and after a market has shown its greatest appreciation. There is often heavy public buying, even a possible frenzy, as all media, brokers, and so-called "gurus" start to tout the market.
Step 6: As step 5 gets underway, the sponsors or smart traders begin to move out of the market and take their profits off the table.
The finale: The move ends, the market falls, and investors lose money.
The good news: It doesn't have to be this way. MarketClub Review is designed not only to catch big moves like the ones described above, but also how to avoid disasters like the dot-com meltdown.
Just had to let you know how great "MarketClub" and the "Trade Triangles" are. I haven't been a member long but you saved me from near disaster more than once. Your signals told me where to get out (when I normally would have just held on). As a matter of fact, you (Trade Triangles) helped me more than double part of my portfolio. I'm still working on the other part, but feel confident as the signals are very easy to follow. It's quick and easy to learn. Well worth the cost - even if you just use it to place stops. Thanks!
Sandi in Ohio
Once you understand the Six Irrefutable Laws above, and combine this understanding with MarketClub Review and "Trade Triangles," you'll have the potential to achieve absolutely amazing results with your trading.
Market Club is a members-only service that gives you the tools, technology, and information you need to succeed as a trader. When you join MarketClub, you'll no longer have to rely on brokers, tipsters, hucksters, or anyone else for investment advice. Everything you need to succeed is provided by Marketclub swing Trading software Review Does this mean you can't ever fail? No. Nothing is infallible in trading. (And if you're told otherwise, run the other way, because chances are it's a scam.) But here's why MarketClub is different from any other approach you've ever used.
MarketClub not only gives you the tools you need to grab profits on the upside, it also gives you the tools for diversification and money management, two key elements of managing your risk.
The Market Club swing trading software is packed with features that will give you everything you need to trade successfully. For instance:
MarketClub's Smart Scan lets you see strong uptrends and downtrends, long-term trends, and "insider" buying and selling.
With our exclusive Smart Scan technology,

you'll be spotting big moves before the pros.

Smart Scan is the only online scan technology that provides instant technical analysis and lets you scan for opportunities in stocks, futures, foreign exchange, and soon, precious metals. You choose the type of scans you wish to perform, based on your own personal trading style.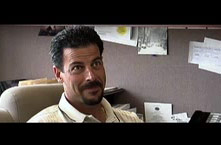 " I really like the "Smart Scan" and "Trade Triangles" Technology."
Jeff S.
The Chart Portfolio section enables you to chart analyze over 100,000 symbols with just a click of your mouse.
The Chart Portfolio segment of MarketClub Review is one of the most powerful components of the entire Market Club site, because you personalize your portfolio for the symbols and markets you are following. You can

chart analyze over 100,000 symbols

, creating your own bar, candlestick, and line charts (weekly, monthly, and quarterly) with just a click of your mouse. You can apply thirteen studies - many of which are recognized as key technical elements in determining price movement. Studies include Bollinger Bands, Moving Averages, Parabolis SAR, MACD, RSI, Stochastic, and more. Our proprietary charting applet lets you look at the data you need in almost any format you want.
At Data Central, you can download as much data as you want for over 100,000 symbols.
You can download data starting at one-minute increments, and go all the way up to daily data. Market Club is the only place on the web today that allows you to download data in ASCII format on stocks, futures, precious metals and foreign exchange. If you're a trader that has your own special spreadsheet or charting program, you'll find all the data here that you need for it.
Dear Market Club, Your system is fabulous! The Trade Triangles enhance a buy choice and each month the cost of your subscription is covered by the profits I make by following your system daily. I use MarketClub for both the futures market and the stock market - with equal success in making profits. Thank you for helping me in my retirement years. I could not do it without you.
Teresa Robinson
The Trade School on the web is the fastest and easiest way to learn new trading techniques.
At Market Club, we believe market education is key to your success. Our Trade School allows you to

create your own custom trading conference

by downloading files to your own computer. You get unlimited access to professional workshops, and can choose the exact mix of workshops and speakers that you want to hear. Currently, there are over 74 hours of speakers' workshops that cover stocks, futures, options, foreign exchange, indices, day trading, money management, and psychology. You'll also get free downloads of the workbooks that accompany every workshop. More will be added in the future, so you can keep on learning!
A daily end-of-the-day email gives you a complete analysis of your entire portfolio.
You can

analyze your own portfolio instantly

, at any time. But if you don't have the time, you can count on MarketClub to deliver it to your email inbox at the end of each trading day.
These tools and features in and of themselves are unparalleled in today's market. You won't find any online program for traders anywhere that offers such a feature-rich service as MarketClub. And that's not even counting the value of MarketClub's "Trade Triangles."
The only approach that gives you clear, consistent signals on insider moves in the markets
After subscribing to your MarketClub/Trade Triangles service, I immediately saw positive results. Of the 4 information services that I utilize, MarketClub has delivered the most accurate and reliable information, the result of which has been a 52% increase in revenue-generating trades.
A.J. Perillo
Las Vegas, Nevada
MarketClub is the only service available today that uses "Trade Triangles" technology. At the very core of "Trade Triangles" is a proprietary mathematical formula that allows you to quickly and easily see what's going on in the market. When you become a MarketClub member, we provide you with the "Trade Triangles" indicators that affect each item in your portfolio, so that you can spot the insider moves early on. There are no gray areas with "Trade Triangles" - the signals are crystal clear.
"Trade Triangles" not only enables you to make the most of your existing portfolio, it also helps you to discover market opportunities you may have overlooked.
Let's look at some actual examples of "Trade Triangles" at work.
This 3-minute movie shows you how crude oil performed in the market from January through April of this year. By following the "Trade Triangles," you could have turned $3000 into $110,110 in just 74 trading days. (There's nothing to download, and nothing to install.)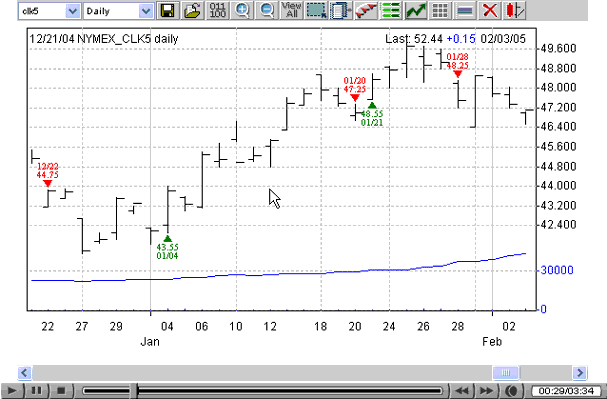 Think that was just a fluke? It wasn't. All you need is a game plan, and MarketClub gives it to you. So what happened to crude oil after Adam made that first movie on April 19. If you had continued trading crude the next two months using MarketClub's "Trade Triangles," you could have made an additional $63,000 on top of the $110,000 – all for an initial $3000 investment! Watch this second movie to see how the Trade Triangles once again delivers a winning game plan.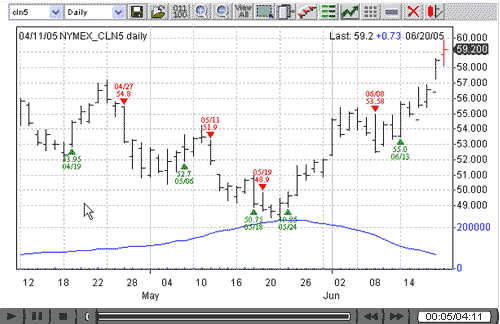 Here's another example. This time, we'll look at Google stock. If you had followed the "Trade Triangles" for Google, you could have seen a 53% return in just 48 days.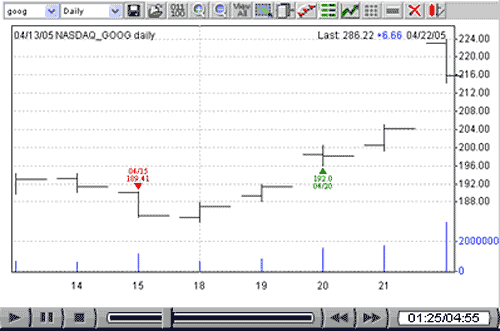 With MarketClub's "Trade Triangles" technology, you see these signals as they happen. It's not 20-20 hindsight; it happens real-time on your computer screen. Our new applet uses state-of-the-art computer technology to deliver a versatile, nimble, and comprehensive charting system that each individual user can customize to his or her preferences.
For a sneak peek at our powerful new charting applet, watch this movie.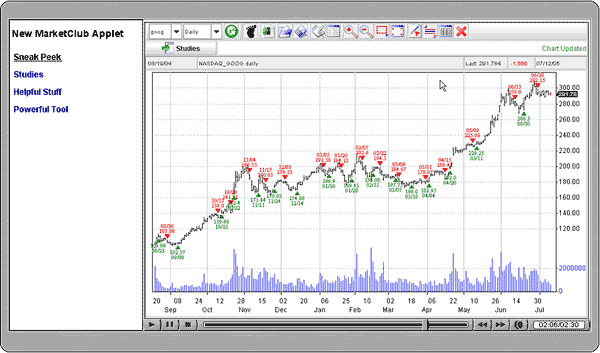 When I started using the MarketClub, I checked out your signals versus the signals I generate for a few weeks. I used mine to verify yours… now I use yours to verify mine and the profits have been astounding!
Milt Fall
Arlington, VA
As amazing as this revolutionary approach is, though, MarketClub Review is not just about the "Trade Triangles." MarketClub gives you so much more:
You don't have to buy or install any charting software. The cutting-edge, proprietary java applet is constantly being updated to give you the best performance possible.
You can access your account from anywhere. As long as there's a computer and an internet connection, you can be anywhere in the world and get the same outstanding service.
You get instant technical analysis on everything in your portfolio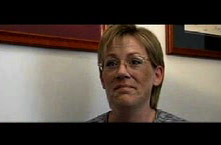 "I reviewed MarketClub and started using it a couple of months ago and it has really helped me and my investing and trading."
Lisa
With the click of a mouse, you can sort and rearrange your portfolio to view it in a way that's most meaningful for you.
Unlike some trader services, which make you wait for static updates at the end of the day, MarketClub provides real time signals for currencies and precious metals.
With MarketClub, you don't have to sit in front of a trading screen all day. We show you how we calculate the numbers so you can put in your orders and take off for the day. (How about a nice round of golf while your money is working for you?)
We're convinced that you won't find any service anywhere that does as much as MarketClub. But don't just take our word for it.
Glowing MarketClub reviews have been received not only from members, but also from the financial press. Here's what two leading newspapers have had to say about MarketClub:
"MarketClub looks like a winner."
-- The Financial Times, October 4, 2002
And look what BARRON'S has to say.

November 29, 2004
We recently ran across an innovative charting site that's been around for about a year. MarketClub is a premium service offered by INO.com. It's well-conceived, well-implemented and worth the $449 annual subscription fee (cancellation within one month gets a full refund). Like INO.com, it provides tools for futures and options traders, but also covers stocks, precious metals and currencies. More than 100,000, primarily North American, symbols are supported, in addition to real-time foreign-exchange and gold prices.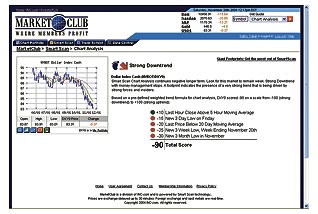 MarketClub offers technical tools that are worth their $449 tab.
The site's concept is simple. Its tools are built around the proprietary SmartScan technology, which earmarks securities that are in an upward or downward trend or at a 52-week high or low (but does not issue buy and sell signals). Create a portfolio of securities or indexes, and you can noodle around with a terrific little Java-based charting tool. You can also toggle quickly through various chart types on the same study and zoom in on a specified block. Data can be downloaded into spreadsheets and charting programs.
Click on the Chart Analysis link, and you get to the heart of MarketClub's SmartScan technology. MarketClub's analysis tool assigns a rating from -100 (strong downtrend) to +100 (strong uptrend), based on five variables like New 3-Month High. Based on your trading strategy, you'll want to pay more attention to specific variables, which will be displaying a red or green light. Finally, the site's Trade School features workshops by industry experts in audio or text format, and daily commentary touches on all the markets covered. Keep an eye on this site even if you're not ready to dive in: It's poised to keep growing.
By Theresa W. Carey, Kathy Yakal
One of the big challenges Adam faced after he decided to share the secrets of "Trade Triangles" was how to put a value on it. How do you put a value on something that can be life changing? He and his partner Dave (the computer genius) both looked on the web, called a few trading friends to get their feedback, and they all came to the same conclusion. A one year subscription to MarketClub is easily worth $2000 or $3000.
They really didn't want to do that, though. They know MarketClub is worth every penny, but there was something driving the price more than the value. And it's this, in a nutshell: for those just starting out, trading capital is precious. You may just not have that much to work with.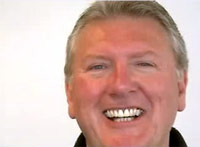 A Special Offer From Adam, the Creator of MarketClub
Nothing would make Adam happier than to help others be equally successful, so that they, too, can "pass it on" and help make the world a better place.
So for a limited time only, Adam is going to open up subscriptions at just $449 for twelve months of MarketClub.
Look at it this way - if you are paying for an end-of-day data service, a very basic one is going to cost you at least $25 a month ($300 a year). If you want real-time forex data, you'll pay at least an additional $50 a month ($600 a year). Charting software will cost you a minimum of $200 for a low-end program, and upwards of $1000 for a more comprehensive package. And then you have to shell out even more money every year to upgrade it.
And then there's the stuff you can't really put a price tag on - charting applications that are constantly and seamlessly updated to reflect cutting-edge computing power. Freedom from sitting in front of a computer screen all day long watching your portfolio. Accessibility from any computer, anywhere in the world, so that you aren't chained to your office or home.
And of course, there's the incalculable value of "Trade Triangles" - a revolutionary concept, made possible only by proprietary computer technology, that no other service can offer you.
You'll agree that it's a bargain.
There is, however, one catch.
They only want traders to subscribe to MarketClub who will agree to a very important and highly sensitive legal disclaimer. As you can imagine, MarketClub is the culmination of Adam's lifetime experience trading the markets (and Dave's computer genius), and it represents intellectual capital not only for himself and Dave, but for all the members who have invested in a MarketClub membership.
Their attorneys will do everything humanly and legally possible to safeguard and preserve the value of this information to the members by protecting this intellectual property. That is why the information is copyrighted and protected to the fullest extent of the law.
If you aren't able to agree to the following terms, they'd rather you not become a MarketClub member. Let someone else who is ready to make a life-changing move take your place.
For a LIMITED TIME only, new MarketClub members are given a very special bonus package, FREE, normally valued at $58.
Bonus #1:

Special Report! 17 Money Making Candlestick Formations

In this special report, valued at $29, you'll find MarketClub founder Adam Hewison's 17 favorite candlestick formations that you can use in your trading as a member of MarketClub. Many members tell us that candlestick charting is their favorite form of charting and the best they have ever seen. A full page is dedicated to each candlestick formation, with a clear, understandable full color diagram plus an explanation of the formation's significance, enabling you to learn how to spot bullish and bearish trends and market reversals. The information in this report dovetails perfectly with the "Trade Triangles" technology used by MarketClub. This special report gives you one more way to make the most of your MarketClub membership.

(This bonus is an Adobe Acrobat PDF document and will be emailed to you as an attachment.)

Bonus #2:

Special Report! Keep it Simple

In this exclusive special report, valued at $29, MarketClub founder Adam Hewison provides a comprehensive survey of 10 simple and powerful chart formations that can be applied to any market - including stocks, futures, mutual funds, and precious metals. The examples are taken from Adam's book, The Definitive Guide to Forecasting Foreign Exchange. What makes chart formations so powerful is that they enable you to visualize market movements. The 10 chart formations in this special report are versatile, functional tools that have worked in all market environments over a broad span of time. The information contained in this report will add even more value to your MarketClub membership.

(This is an Adobe Acrobat PDF download document. You will be emailed a web link that takes you to the download.)
If you find that MarketClub simply isn't for you, for any reason, there's no obligation. Just call and cancel within 30 days of your start date. Ino.com will refund 100% of your membership fee -- no hassle, no questions asked!
(And the bonuses are yours to keep.)
useful books:
Featured Trading Reviews: